Nutra-Mune
Immune System Boosters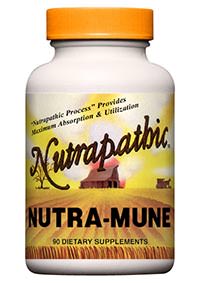 1 Bottle = 90 Dietary Supplements
Out of Stock
Your body's immune system is its natural defense system against foreign invaders including bacteria, viruses, fungus, and infections. When it is working properly, your immune system will help you to fight off infections, viruses, and diseases. It can also promote and encourage healing throughout the body.
Nutrapathic Nutra-Mune, is a natural immune system supplement that contains a number of immune system boosters. This immune system boosting supplement will provide your body with the vitamins, minerals, amino acids, glandulars, herbs, and digestive enzymes that are needed for a strong and healthy immune system.
Our immune system boosters can be taken as a daily supplement to strengthen your immune system, to help heal your body from injury or illness, in combination with Nutrapathic D-Yeast in order to treat Candida imbalances that cause yeast infections, or to maximize the effectiveness of Nutrapathic Para-Cleans for treating internal parasites.
More About Our Immune System Booster Supplement: Nutra-Mune
Individuals may find that their immune system is weakened as a result of illness, a stressful or hectic lifestyle, poor nutrition and diet, chemical preservatives added to food and water, environmental pollution, or drug and alcohol abuse. Nutrapathic Nutra-Mune is a natural dietary supplement that includes a blend of effective immune system boosters. This combination of vitamins, minerals, amino acids, glandulars, herbs, and digestive enzymes can help nourish and restore the body to a normal internal balance. This will strengthen the immune system allowing it to fight and control foreign invaders, illness, disease, and infection.
Order our immune system booster supplement today to see how this supplement can help restore your body to health while strengthening and boosting your immune system.
When You Should Take Our Immune System Boosters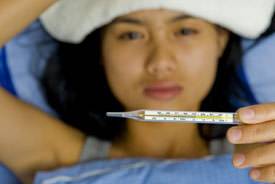 Our immune system boosters can be used on a daily basis to strengthen your body's ability to fight disease or as part of the treatment for other symptoms and health problems. These immune system boosters are effective:
For every day immune system boosting benefits: Whether your immune system is weakened from disease or from the stress of a hectic lifestyle or you simply want to strengthen your immune system to help fight infections and illness, our immune system booster supplement can give your body the nutrients it needs to help fight bacteria, viruses, infections, and fungus. Taken as a daily supplement, these immune system boosters can also help the body to heal from injury, illness, and infections.
For the treatment of Candida Symptoms: The natural immune system boosters in our immune system supplement are an important part of our natural Candida treatment as they help to control and prevent the spread and excess growth of the naturally occurring Candida fungus as well as prevent other infections. When used in combination with D-Yeast, this makes an effective solution for treating frequent yeast infections that are cause by a Candida imbalance.
To boost the effects of Para-Cleans for removing parasites: Our immune system boosters can be an important addition as part of a natural internal parasite cleansing treatment using Nutrapathic Para-Cleans. These immune system boosting supplements will help strengthen the immune system and increase the body's ability to fight off parasite infestations while keeping parasites under control. This increases the overall effectiveness and lasting results of internal parasite treatment when using our internal parasite cleansing supplements.
---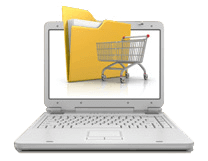 Shipping Info
We only ship orders in the U.S. Free shipping on orders over $35. You may send us a check or money order. If you wish to pay by money order or check, mail your payment along with your name, address, phone number and order description to: Parametric Associates, Inc. 10934 Lin-Valle Dr. St. Louis, MO 63123. (Note: By sending a check, your product may take longer to arrive than the normal delivery time). Expedited delivery is available at customers additional cost.
Our Immune System Booster Supplement Ingredients:
EACH TABLET CONTAINS: Vitamin A (as Beta-Carotene & Acetate) 5000 IU, Vitamin C (as ascorbic acid) 500 mg, Vitamin B12 (as cyanocobalamin) 50 mcg, Biotin 300 mcg, Pantothenic Acid (as calcium pantothenate) 7 mg, Calcium (as carbonate) 40 mg, Magnesium (as oxide) 20 mg.
IN A 515 mg PROPRIETARY BLEND OF: L-Lysine (HCL), Echinacea Purpurea (root), Spirulina (algae), Bromelain (pineapple), Lemon Bioflavonoids, Barley Grass, Alfalfa (leaf), Wheat Greens, Thymus (porcine), Ribonucleic Acid, Papain, Irish Moss (herb), Rice Bran, Rutin, Adrenal (porcine), Pituitary (porcine), Spleen (porcine), Lymphatic (porcine), Liver (porcine).
Women's Health
Supplements
All Products