Mobility
Joint Supplement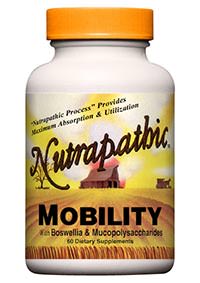 1 Bottle = 60 Dietary Supplements
$20.00
If you suffer from joint pain, stiffness, or restricted mobility as a result of the extra demands from an active lifestyle, from arthritis, or as a result of years of normal joint use, a joint supplement may be the solution for you.
Nutrapathic Mobility is a natural joint supplement that contains a blend of nutrients and ingredients to help promote mobility in the joints and muscles. This joint supplement supplies proper nutrition to your joints, muscles, tendons, cartilage, and ligaments. It will help you achieve increased mobility in a natural way. Order Mobility, our joint supplement online today to see how this supplement can help increase your mobility and reduce pain or learn more about this natural supplement below.
More About Our Joint Supplements: Mobility
Nutrapathic Mobility is a joint supplement that contains a number of ingredients and supplements designed to help promote and encourage mobility in the joints and muscles. This synergistic combination is designed to be digested, absorbed, and utilized rapidly and completely for maximum effectiveness. It acts as a food source for your joints and muscles, supplying the necessary nutrients to your joints, muscles, cartilage, and ligaments.
Our joint supplements contain a blend of vitamins, minerals, amino acids, enzymes, and whole foods that meet the nutritional needs for healthy joints, muscles, cartilage, and ligaments. Some of the most important ingredients included in our joint supplements are:
Boswellia Seratta: This is the chief herb that is used to promote mobility and flexibility in Ayurveda, the ancient system of Indian medicine.
Quercetin: This is a bioflavonoid that is derived from blue green algae. It is an important ingredient in our joint supplement as it can act as an anti-inflammatory to treat inflammation in the joints, especially that caused by arthritis, which may result in pain or stiffness.
Chondroitin Sulfate: This is one of the three main constituents of connective tissue, which promotes elasticity and a cushioning effect in ligaments, cartilage, and tendons.
Why You Need Our Joint Supplements
People experience joint pain and reduced mobility for a variety of reasons. The causes for joint pain and limited mobility can range from the existence of diseases or medical conditions to pain left from old injuries or simply the demands of an athletic lifestyle. Regardless of the reasons that you are experiencing joint pain, our Nutrapathic Mobility joint & mobility supplement can help.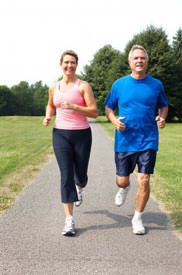 Common causes for limited mobility and joint pain include:
Pain and inflammation of the joints from arthritis
Pain, which results from the extra demands of an active lifestyle including from sports, exercising, or body building
Pain from existing or past injuries to joints or tendons
Stiffness and pain from years of normal joint use
Taking our Nutrapathic Mobility joint supplement will help resolve join pain and promote improved flexibility and mobility by supplying joints and muscles with the proper nutrition that they need for flexibility and elasticity. Joint supplements should supply a balanced blend of vitamins, minerals, amino acids, enzymes, and whole foods in a form that can be readily and quickly absorbed and used by joints, muscles, and ligaments. Supplying the body with these important nutrients through a complete joint supplement can help treat joint pain or stiffness that occurs for a variety of the common reasons.
To find out how our joint supplement can help you experience joint pain relief and improved mobility by providing proper nutrition to your joints, muscles, cartilage, and ligaments, order your bottle of our joint supplements today.
Buy Mobility Now: $20.00
---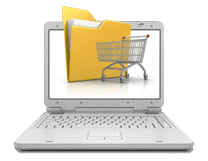 Shipping Info
We only ship orders in the U.S. Free shipping on orders over $35. You may send us a check or money order. If you wish to pay by money order or check, mail your payment along with your name, address, phone number and order description to: Parametric Associates, Inc. 10934 Lin-Valle Dr. St. Louis, MO 63123. (Note: By sending a check, your product may take longer to arrive than the normal delivery time). Expedited delivery is available at customers additional cost.
Our Joint Supplement Ingredients:
EACH TABLET CONTAINS: Vitamin C (as ascorbic acid) 75 mg, Vitamin B2 (as riboflavin) 7.5 mg, Niacin (as niacinamide) 20 mg, Vitamin B6 (as pyridoxine hydrochloride) 15 mg, Vitamin B12 (as cyanocobalamin) 15 mcg, Pantothenic Acid (as calcium pantothenate) 50 mg, Manganese (as manganese sulfate) 2 mg.
IN A 318.5 mg PROPRIETARY BLEND OF: Boswellia Serrata Extract (standardized 65% Boswelia acid) (herb), Collagen (chicken), Quercetin, Spirulina (algae), Bromelain, Sulfur, PABA, Trachea Cartilage (bovine), Chondroitin Sulfate (bovine), Glucosamine (as Sulfate), Alfalfa (leaf), Garlic (bulb), L-Cystine, Papain (papaya), Horsetail Extract (standardized 7% Silica).
Women's Health
Supplements
All Products