Sweet Dreams
Natural Sleep Aid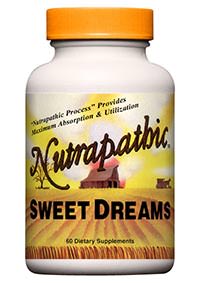 1 Bottle = 60 Dietary Supplements
$15.00
Currently on Back Order
If you suffer from insomnia, have trouble quieting your brain to fall asleep, have disrupted your natural sleep cycle, or simply want to have more restful and deeper sleep that will allow you to wake up feeling rested and alert, not drowsy or groggy, Nutrapathic Sweet Dreams is the natural sleep aid for you.
This natural sleep aid offers fast, effective, and all natural relief from your sleep problems. It is made up of a blend of ancient Ayurvedic herbs as well as a complete blend of vitamins, minerals, amino acids, and glandars. This natural sleep aid is designed not only to help you sleep, but also to nourish the brain during sleep to leave you feeling refreshed and alert. It will also provide the brain with the nutrients that it needs to help re-establish your natural sleep cycle for long-term results.
To see how our natural sleep aid can help you fall asleep quicker and sleep better by allowing your body to fall into its natural deep sleep cycles, order your bottle today.
More About Our Natural Sleep Aid: Sweet Dreams
Our natural sleep aid is made up of a special formula that is designed to help you sleep and nourish your brain in order to promote restful and natural sleep that will allow you to wake up feeling rested and alert. This natural sleep aid contains a complete blend of vitamins, minerals, amino acids, and glandulars as well as a blend of natural Ayurvedic herbs that includes:
Wild Lettuce: This is an Ayurvedic herb that acts as a sedative to help induce sleep while calming restlessness and anxiety.
Long Pepper: This Ayurvedic herb can help to promote and encourage sleep by reducing and alleviating stress.
Ashwagandha: This popular Ayurvedic herb has been trusted for its ability to help the body deal with stress, which can help bring about sleep. It can also help boost energy levels, which will allow you to awake after a complete night's sleep feeling alert and refreshed.
Why Choose Natural Sleep Aids for Restful Sleep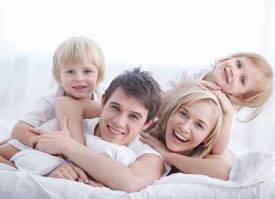 If you suffer from insomnia or have trouble falling or staying asleep, the best type of treatment is one that can encourage healthy and restful sleep naturally by regulating and restoring the natural sleep cycle. Medical sleep aids and synthetic medicines may treat sleeping problems in the short term. However, because of the risk for dependency or other possible side effects, these are not the best solution for your sleep problems.
Natural sleep aids, like Sweet Dreams from Nutrapathic can help to nourish the brain by providing the nutrients needed to encourage healthy and natural sleep cycles. This will provide long-term benefits to help you overcome sleeplessness and restore your natural sleep cycle.
Natural sleep aids offer a number of benefits over other medical sleep medications, treatments, and drugs. Our natural sleep aid will:
Help promote long term benefits by providing the nutrition needed to restore natural sleep cycles
Promote restful and natural sleep that is needed to nourish the brain
Utilize Ayurvedic herbs that have long been trusted to help alleviate stress and promote sleep
Supply your body with the complete nutrition needed for restful sleep including vitamins, minerals, amino acids, and glandulars
Offer fast and instant relief to help you fall asleep quickly
Not leave you with a drowsy or groggy feeling in the morning, which can result from many of the medical sleep products and sleeping pills
Not have the many possible side effects and risks that can come with any medical sleep aid
Order your bottle of our natural sleep aid online today to learn how this supplement can help you get the restful sleep you desire that will leave you waking up rested and alert.
Buy Sweet Dreams Now: $15.00
Currently on Back Order
---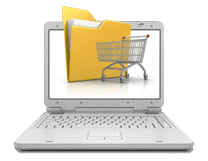 Shipping Info
We only ship orders in the U.S. Free shipping on orders over $35. You may send us a check or money order. If you wish to pay by money order or check, mail your payment along with your name, address, phone number and order description to: Parametric Associates, Inc. 10934 Lin-Valle Dr. St. Louis, MO 63123. (Note: By sending a check, your product may take longer to arrive than the normal delivery time). Expedited delivery is available at customers additional cost.
Our Natural Sleep Aid Ingredients:
EACH TABLET CONTAINS: Vitamin C (as Calcium Ascorbate, Magnesium Ascorbate, Zinc Ascorbate) 130 mg, Niacin (as Niacinamide) 10 mg, Vitamin B6 (as Pyridoxine HCL) 40 mg, Calcium (as Ascorbate) 10 mg, Magnesium (as Ascorbate) 10 mg, Zinc (as Ascorbate) 5 mg.
IN A 364 mg PROPRIETARY BLEND OF: Ashwagandha (root), L-Glutamic Acid HCL, Wild Lettuce (leaf), Brain Substance (porcine), L-Taurine, Whey, Soy Protein, Barley Grass, Bromelain (pineapple), Pepsin, Long Pepper.
Women's Health
Supplements
All Products